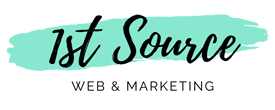 Thank you for choosing 1st Source Web to become a part of your marketing team!
We have a few quick questions for you before we get started.
Please note this form will need to be filled out before the project can begin. If you at any point are having trouble answering any questions please reach out to us for further explanation. These questions are meant to help guide us with a starting point for your project.
Step 1: Start Here
Our Most Commonly Asked Questions
Step 2: Fill out the form below
PO BOX 60719
San Diego, CA 92166
learnmore@1stsourceweb.com