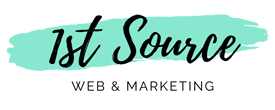 Thank you for choosing 1st Source Web to become a part of your marketing team!
We have a few quick questions for you before we get started.
Please note this form will need to be filled out before the project can begin. If you at any point are having trouble answering any questions please reach out to us for further explanation. These questions are meant to help guide us with a starting point for your project.
Step 1: Start Here
Our Most Commonly Asked Questions
Your project manager will be assigned to you once you have signed up. You should have received an email directly from your project manager with instructions on how to get started. If you have not received this email, first check your spam folder as sometimes mail can get stuck in there (bah humbug!). If you are still unsure please contact your sales representative to assist you.
If you have all the content for your entire website ready to go, then GREAT! If not, do not fret. It is very common to submit content as we go. We completely understand that this can take time to prepare.
For now, we are only focusing on the homepage of your website. Which means we DO NOT need everything to get started.
Here are the main items needed from you to begin:
Your Logo
Images for the homepage OR a list of keywords related to your industry for use of stock photos
Any other logos (awards, certifications, affiliations, vendors, manufacturers, etc.)
If you are selling products – images of your top products
Any other important documents you would like featured on the homepage
Keep in mind- if you do not have any of the above ready, we can still get started! We would never want to delay your project. We can always use placeholder images until you have what is needed ready. We just try to avoid this when possible to give you the best experience viewing your new design.
Please submit all images in the largest size possible. Text should be submitted in a word document or a google document.
All content should be sent to your project manager via email, Google Drive, Dropbox, WeTransfer or Snail Mail on a Zip Drive if that's easier for you.
The timeline for completing your website truly depends on your specific project. Majority of our projects can take anywhere from a week to three weeks to prepare all of the pages for your review. It just depends on the amount of pages, data entry, design aspects, etc. If you have a specific deadline you would like to meet please reach out to your project manager and we will do our best to accommodate your request.
If you do not have any images to submit, no problem.
We will work on finding you the best stock photos that we can for your project. If would be helpful to us if you can submit a list of a few keywords for better searching. The more information we have the better the photos will work for your business.
For example, if you sell plant containers to hotels and large resorts. This is a very specific business and maybe you do not want photos of metal or plastic containers because you only sell clay. Or maybe you only sell outdoor containers and not indoor. Then we would be searching for "outdoor hotel pottery" and this would be a photo we would find:
After this form has been submitted, we will get started! Hooray!
We meet with our team to go over design concepts, search for stock photos, decide on color scheme, typography, featured details, etc.
Every project is different so we are not able to give you a definite date that your homepage will be ready for viewing. However, we try as hard as possible to have your new design ready to show you within 2 weeks.
Once your design has been completed we will submit the link to you via email.
Once your  design has been completed we will submit the link to you via email. This link will show you the HOMEPAGE ONLY. You will NOT be able to click on any links or view any other pages just yet. It will also not be designed yet for mobile and tablet devices. We do this for a very important reason…the homepage mimics a similar design structure to your whole website. We want to make sure everything is exactly how you want it before working on everything else.
This is the time to submit any changes to us that you would like to have made. You will work directly with your project manager to tweak the design to your liking. Once you are ready to move forward from the homepage design, you will sign off using this form here: READY TO APPROVE YOUR HOMEPAGE?
Step 2: Fill out the form below