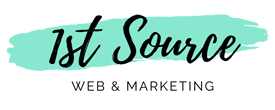 This constitutes as a homepage completion agreement entered into by and between 1st Source Web and Client relating to the web design services contract entered into between the parties.
Client does hereby approve the homepage design.
By signing this form I approve the overall layout and I understand there may be an additional charge if changes to the overall layout, color scheme, logo placement, image placement, slogan placement, etc. are requested on a future date.
Frequently Asked Questions