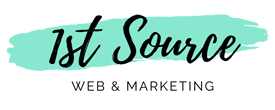 We would love for you to share your comments with us by leaving a review…
We appreciate the trust that you have placed in 1st Source Web and we will continue to strive to provide you with quality service and guidance.
Online reviews are an important part of our business so that we get your insightful feedback and continue to deliver the best service to all of our customers.
Another Option
We'd love to have your review posted on this platforms to share with the online world, however if you do not have any of those accounts, feel free to leave your review in this form below so we have the opportunity to share it on our website.
Stuck on what to write?
We have included a couple of questions that you can use as a guideline or starting off point. You can certainly include any other information or something completely different.
How did you hear about us and what lead you to choose us?

What do you like best about your website?

What did you enjoy most about working with us?