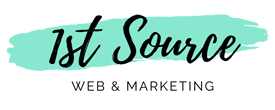 We are very excited to let you know that your website has been completed.
This constitutes as a website completion agreement entered into by and between 1st Source Web and Client relating to the web design services contract entered into between the parties.
Client does hereby approve the overall design of the website and is ready to launch.
By signing this form I acknowledge that I have thoroughly reviewed the mock version of my website and agree that all sections/items are complete in its entirety and are 100% accurate. I understand that any additional items/changes to format, structure, flashing/scrolling images, additional pages and any content management/admin controlled pages, etc or sections will require an additional quote once website completion has been approved by submitting this form.
We have enjoyed working with you on this project and are looking forward to launching your new website! If we have not already, we will be in touch with you soon to gather details to prepare for your launch.
Frequently Asked Questions